Primary Somapony Certificate (PSC) Question Pattern & Mark Distribution .You Will find all Suggestion on Selected Subject. Here You will find National Academy For Primary Education (Nape) Based Question Pattern and Mark distribution. Primary School Certificate Syllabus Managed by Director of Primary Education Board. Primary School Certificate (PSC) also known as Primary Education Completion Examination.
All Question pattern, Mark Distribution and Syllabus are common in usage is the NCTB, which has two versions, a Bengali version and an English version.
PSC Math Examination 2015 Question Patterns & Mark Distribution

PSC Examination Syllabus Divided by Subject wise. There Are Six (06) Subject to Give exam. PSC Exam Common Subject ate Bangle, English, Math, Primary Science, Bangladesh & Bissho Porichoy and Religion Studies.
Here we provide Math Question Pattern & Mark Distribution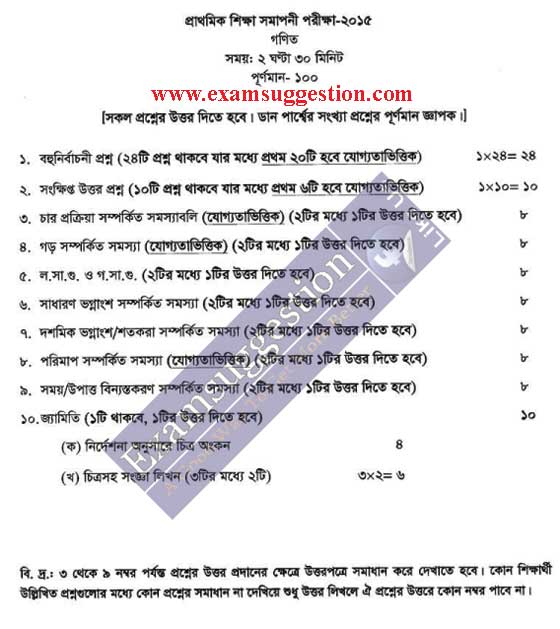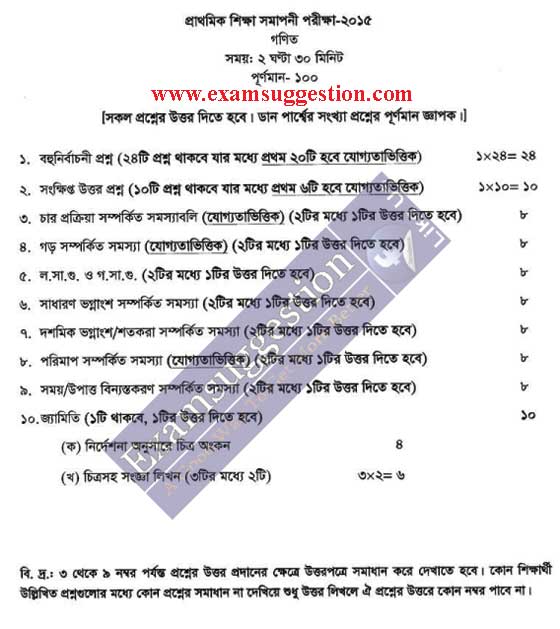 PSC Exam Math Question Pattern and Mark Distribution. In Exam Hall Students have Answer 10 Question include 1, 2, 3, 5 and 10 no. Question.
Question No. 1. Multiple Choice Questions Answer. In Question no 1. 24 Question Will be Fond by 20 Question Will be Qualification Based Multiple Question Will Provide For Give Answer and Question Will be have 4 option to give answer.