PSC Religion Subject Mark Distribution 2015. Primary Education Completion Exam Religion Subject Question Pattern and Mark Distribution 2015. For Different Religion PSC Religion Subject have Different. Islamic Studies For Islam Religion, Hindu Subject For Hindu Religion and More. We Will be Provide Question Pattern For Religion Subject. All Religion Subject Mark Distribution Same. NAPE Authority Published Latest Mark Distribution For PSC Exam 2015 on 15 February, 2015. Somaponi Religion Subject Mark Distribution.
PSC Religion Subject Mark Distribution 2015
PSC Religion Subject Exam Will be Held on 100 Marks. Marks Are Divided by Question Categories. Two (2) Categories Question are Found PSC General Science. One of them Multiple/MCQ Type and Others Creative/Srijonsil.
50 Marks For Multiple or MCQ Type Question and 50 For Creative or Srijonsil Question.
Religion Subject are Islamic Studies, Hindu Subject etc. Below We Provide Shamaponi Exam Religion Subject Mark Distribution as Image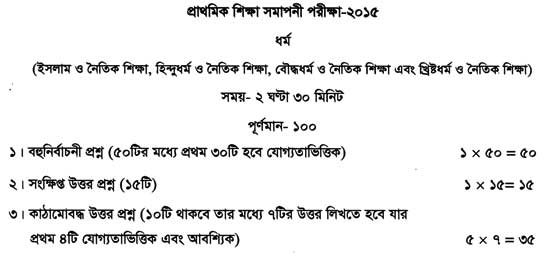 Examsuggestion.com Will be Provide All Public Exam Question Pattern, Marks Distribution, Model Question, Suggestion, Routine, Result and Others Information About Education. We Also Update information on Our Facebook Page. So Like Our [su_button url="https://www.facebook.com/exambdsuggestion" size="7″]Facebook Page[/su_button] To Updated Information.